If anyone is looking for a great paper towel holder that allows you to tear off sheets with one hand, try the Umbra Tug. About $18 from Amazon. I bought two for the Super Saver Shipping and gave one to a neighbor. Just slip on the paper towel (no unscrewing end caps), and you're ready to 'roll'.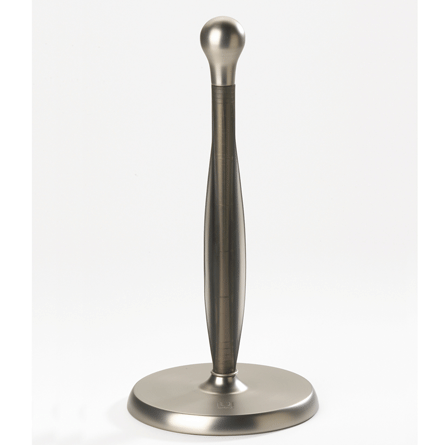 Posts

: 19


Join date

: 2008-04-15



Thanks for the tip. I was looking at the Kamenstein stainless steel towel holder, but heard the ratcheting mechanism fails after a few months. The Umbra is sold out at Amazon right now, so I'll have to wait a few weeks.



Posts

: 33


Join date

: 2008-04-16



Just what I was looking for! Amazon only shows four color choices... Is that 'smoke' pictured? I'm looking for the one with brushed nickel finish.



Posts

: 9


Join date

: 2008-05-06



Yes, choose 'smoke' for brushed nickel finish. Here is the wall-mount version:



Posts

: 19


Join date

: 2008-04-15



Wo...this is so way cool! I need a neighbor to get me this one. I love the round design & how it'll clear all the counter space!



Posts

: 27


Join date

: 2008-04-15



I've actually found myself shopping at Home Depot and City Mill and going onto Amazon and buying the exact same items for 15-20% less. And there's no sales tax! And free shipping! And now that we can get mail delivered downstairs, it's so easy. I will be ordering this paper towel holder. It looks great and it's cheaper than the Simplehuman one I was considering . . .

For those of you who can't find it, here's the amazon link for this "Umbra Tug" that everyone's talking about:

http://www.amazon.com/exec/obidos/ASIN/B0015QB57A/1611-20



Posts

: 4


Join date

: 2008-05-02



They actually have a 'wasabi green' on Amazon that seems to have the same brushed nickel finish, but sold through another vendor so no free shipping...



Posts

: 20


Join date

: 2008-04-25



Thanks for the link, can't believe how much $$ I've spent since moving in!



Posts

: 14


Join date

: 2008-04-18





Similar topics
---
Permissions in this forum:
You
cannot
reply to topics in this forum